Free bonus credits are available multiple times each day!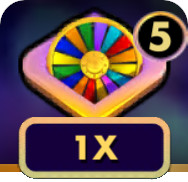 At the top of your menu, you'll see the bonus icon. The number in the bar refers to your current multiplier streak. The number in the circle lets you know how many different bonuses you currently have available to collect.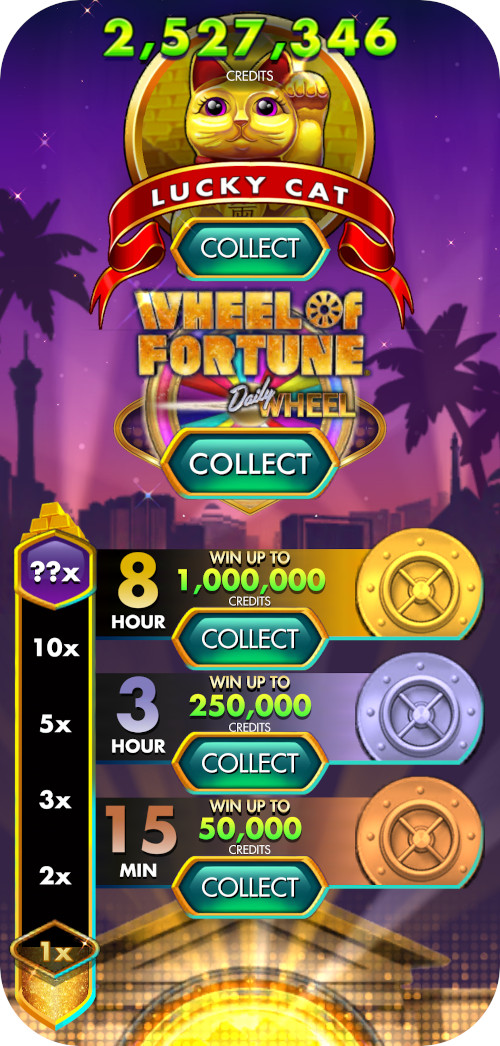 Please note the image above is for example purposes only. Actual values may vary.
Tap COLLECT to claim a bonus.
You have 4 bonuses you can collect each day (5 if you're a Lucky Cat). While the Daily Wheel bonus can be collected every 18 hours, the remaining timed bonuses can be collected multiple times a day. When you tap COLLECT on a bonus, it will reveal the number of free credits you'll receive. If displayed, each timed bonus can award up to the value listed above the COLLECT button.
Bonus Multiplier
Your Bonus Multiplier increases the rewards you receive for all Timed Bonuses!
| | | |
| --- | --- | --- |
| | | As you play, every spin you take will help grow your Bonus Multiplier. You'll see this effect as the Bonus icon fills at the top of your screen. |

While your meter is full, be sure to play, and collect as many bonuses as you can that day to take full advantage of the multiplier! At the end of the day (Midnight Pacific Time), the counter will be reset back to 1x.
Continue to fill your meter past 10x and you'll unlock an even larger multiplier!
Kitty Bank
In addition to lots of other benefits, Lucky Cat subscribers get access to an exclusive extra bonus, the Kitty Bank! Every 6 hours, you can collect up to 2.5 million chips! It fills automatically over time, and even faster as you play!